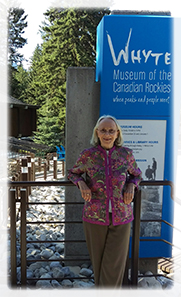 At the Whyte Museum of the Canadian Rockies in Banff, Canada.
At the historic Franklin Inn Club, Philadelphia, PA, Marjorie G. Jones speaks about the correspondence between Mary Vaux Walcott & First Lady Lou Henry Hoover.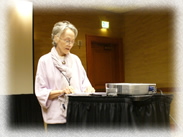 Marjorie G. Jones speaks about Mary Vaux Walcott's reports to the U.S. Bureau of Indian Affairs at the annual National Women's Studies Association (NWSA) conference in Denver, November 2010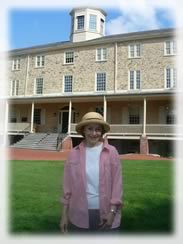 Marjorie G. Jones at Founders Hall, Haverford College, PA (Summer 2009), where she conducted research for her next biography of Mary Vaux Walcott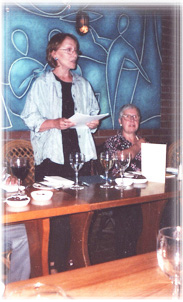 The author speaking about Frances Yates & the Hermetic Tradition at Friends of Cleopas, London, 2006
MARJORIE G. JONES, J.D., M.A.
Interested especially in women's spiritual journeys, Marjorie has published the following articles:
The Correspondence of Mary Vaux Walcott and Lou Henry Hoover
Friends Historical Association Bulletin
Spring 2014
Review of Rebels at the Bar: The Fascinating Forgotten Stories of America's First Women Lawyers by Jill Norgren (NYU Press, 2013) in The Voice of Experience, a publication of the American Bar Association, Fall 2013.

Bowling Along: Early Travel Adventures of Mary Morris Vaux
Quaker History, the bulletin of the Friends Historical Association, Spring 2011.

Recently she has delivered the following papers:
Illustrating History:
The Botanical Art of Mary Vaux Walcott
Pennsylvania Society of Botanical Artists (BSBI)
Jenkins Arboretum
Devon, PA
October, 2017

MIA at PMA: Mary Vaux Walcott's Place Among Philadelphia Watercolorists
Cathedral Village
Philadelphia, Pa.
April 2017
Unpretentious Pragmatism: The Western Travels of Mary Vaux Walcott & Co.
Whyte Museum
Banff, Canada
August 2016
Intersections and Patterns: The Life and Times of Mary Vaux Walcott
Arnold Arboretum
Boston, MA
July 2016
Daring Spiritual Adventures
Commemorating Frances Yates & The Art of Memory
Rose Theatre, Kingston University, London
April 2016
Our Marys
Henry Foundation for Botanical Research
Gladwyne PA
January 2016
With Mary
The Athenaeum of Philadelphia
December 2015
Three R's - Repentance, Redemption, Rehabilitation - the Merits of Prison Education
Ethical Humanist Association of Philadelphia
December 2015
The Joy of Sympathetic Companionship: The Correspondence of Mary Vaux Walcott & First Lady Lou Henry Hoover
Franklin Inn Club
Philadelphia, PA
June 2013
Indigenous Americans & Quaker Women: Mary Vaux Walcott & the U. S. Bureau of Indian Affairs
National Women's Studies Association Annual Meeting
Denver, Colorado
November 2010
Out of Nowhere: The European World of Henry Hudson
McNair Scholars Convocation
Mercy College
Dobbs Ferry, NY
May 2009
Audubon of Botany: Mary Vaux Walcott & Some Interesting Intersections of History
Phi Alpha Theta Biennial Conference
Albuquerque, NM
January 2008
Frances Yates & the Hermetic Tradition
The Companions of Cleopas
London
July 2006
The Audubon of Botany: Mary Vaux Walcott & the Tradition of Women Naturalists
Phi Alpha Theta Induction
Mercy College
May 2005
The Myth of the Christian Queens: The Role of Syncretism in the Conversion of Europe
Central European University
Budapest, Hungary
July 2001
Absence of Evidence (Is Not Evidence of Absence)
National Women's Study Association Annual Conference
Boston, MA
June 2000
At That Time She Was A Woman: Susan B. Anthony & the Effectiveness of Revolutionary Legalese
National Women's Study Association Annual Conference
Seneca Falls, NY
June 1998
Newton and the Alchemical Paradigm
Concordia University
Montreal, Canada
March 1996
Newton and the Alchemical Paradigm
Tenth Anniversary Historical Studies Spring Conference
The Graduate Faculty
The New School for Social Research, NYC
March 1995