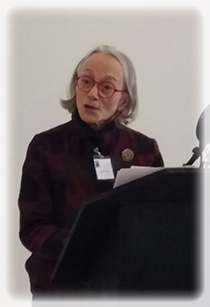 At London conference commemorating 50th anniversary of the publication of The Art of Memory by British historian Frances Yates.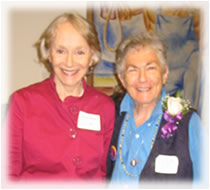 Marjorie G. Jones with biographer Blanche Wiesen Cook at the 20th anniversary celebration of Writing Women's Lives, NYC, May 2010.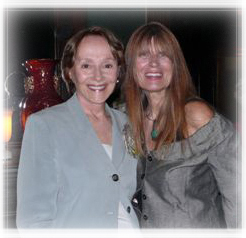 Marjorie G. Jones and publisher Yvonne Paglia, president, Ibis Press, at book launch for Frances Yates & the Hermetic Tradition, National Arts Club, NYC, June 2008
The links below will open in a new window. If your browser does not open a new window, select the desired link, copy and then paste it in your browser address bar.
The best books about women's spiritual journeys (shepherd.com): https://shepherd.com/best-books/womens-spiritual-journeys
Women's Ordination: https://www.womensordination.org/blog/2020/08/08/fun-summer-read/
Dorrance: https://www.dorrancebookstore.com
Amazon: https://www.amazon.com
Barnes And Noble: https://www.barnesandnoble.com
National Museum of Women in the Arts: https://nmwa.org/exhibitions/super-natural/
Smithsonian: https://siarchives.si.edu/collections/search?query=mary%20vaux%20walcott
Nominated for the Art in Literature Award, Library of Virginia: http://www.lva.virginia.gov/public/litawards/
Shakespeare Seminar on Frances Yates, University of Kingston, UK: https://www.youtube.com/watch?v=vg7uAsc-1hk
Whyte Museum of the Canadian Rockies: http://www.whyte.org/whats-on/the-life-and-times-of-mary-vaux-walcott-book-presentation/
Arnold Arboretum of Harvard University: https://my.arboretum.harvard.edu/Info.aspx?DayPlanner=1522&DayPlannerDate=7/13/2016
Schiffer Publishing: http://www.schifferbooks.com
Writing Women's Lives: http://web.gc.cuny.edu/womencenter/wwwl/
Bio (Biographer's International Organization): http://www.biographersinternational.org
Warburg Institute: http://warburg.sas.ac.uk/
About the Hermetic tradition, see: http://en.wikipedia.org/wiki/Hermetic_tradition
Mercy College: http://www.mercy.edu
Hudson Link for Higher Education in Prison: http://www.hudsonlink.org/
Wheaton College: http://www.wheatoncollege.edu
Interview on 21st Century Radio with Dr. Bob Hieronimus, September 05, 2010
Please note: The above link is an audio file in mp3 format and will launch your media player
To listen to 21st Century Radio LIVE on Sunday evenings from 8-10 PM Eastern,
please visit wcbm.com and their Listen Live link.

For a Podcast of 21st Century Radio, or to download an mp3 file of the Marjorie G. Jones Interview, check their free audio archives.
Interview with Donna Seebo September 12, 2008
Please note: The above link is an audio file in mp3 format and will launch your media player